1 IN 4 CHILDREN IN THE U.S. ARE SEXUALLY MOLESTED.
88% OF CHILD SEXUAL ABUSE IS NEVER REPORTED.
We've helped victims like Aaron Fisher. We've stopped perpetrators like Jerry Sandusky. We are ready to help you.

Society is failing victims of child sexual abuse.
The system assumes people know how to respond to abuse. Many do not. The system relies on victims coming forward. Most do not.
Too often, perpetrators with power or fame get away with intimidating their victims. Too often, they aren't prosecuted despite sufficient reason.
Silent No More Foundation supports victims of child sexual abuse, brings perpetrators to justice, and prevents abuse through education and outreach.
"The world is a dangerous place, not because of those who do evil, but because of those who look on and do nothing."
-Albert Einstein
What began as a fight for justice is now a mission.
Silent No More Foundation was founded by Michael Gillum, MA, Licensed Psychologist. Michael is nationally known for his instrumental role in the prosecution of Jerry Sandusky during the Penn State child sexual abuse scandal. Jerry Sandusky molested Michael's patient, Aaron Fisher.
In 2012, Michael co-authored New York Times best-seller Silent No More: Victim 1's Fight for Justice Against Jerry Sandusky, along with Aaron and Aaron's mother Dawn.
After the book's release, Michael received and answered hundreds of calls for help. He became determined to help more victims. He became determined to bring more pedophiles to justice.
Michael created Silent No More to do more to end child sexual abuse in our world – because more must be done.
Learn More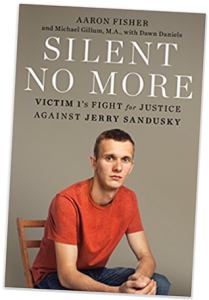 Psychologist Who Counseled 'Victim 1' in Jerry Sandusky Case Establishes Silent No More Foundation to…

Read more

Many people ask, "How can parents allow their child to be in a situation where…

Read more

Even as an early career psychologist working with sexually abused children, I didn't quite understand…

Read more